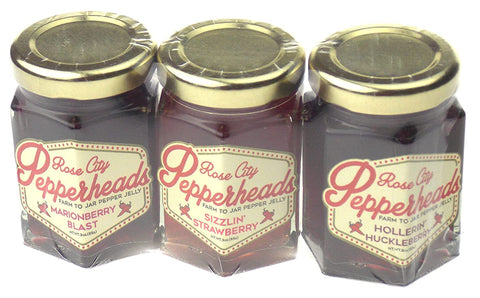 Pepper Jelly Mini Berry Trio Pack - Marionberry Blast Jelly, Sizzlin' Strawberry Jelly & Hollerin' Huckleberry Jelly
Bundle Includes: 3 oz Marionberry Blast Jelly, 3 oz Sizzlin' Strawberry Jelly, 3 oz Hollerin' Huckleberry Jelly.

This is a great gift for yourself or close friends or family. If they love pepper jellies, this is the gift for them.

MARIONBERRY BLAST: Mild Heat. Just enough spice to make your taste buds dance. Marinate your next halibut, salmon or chicken. Glaze a cheesecake or spread on pancakes, crepes or bagels - or just pour over cream cheese with crackers and dive in!

SIZZLIN' STRAWBERRY: Medium Heat. Hood Strawberries that have been fired up by our own farmed fiery Habenero peppers. Glaze your salmon, chicken or pork with this tasty sauce. Fantastic on a bagel with cream cheese.

HOLLERIN' HUCKLEBERRY: Mild Heat. Pacific Northwest Wild Huckleberries and Habanero Peppers. Mix with blue cheese and stuff inside a burger. Make a delicious vinaigrette mixed with olive oil and balsamic. Try on a toasted peanut butter and jelly.

Farm to Jar Pepper Jelly. Made in Portland, Oregon.
---
We Also Recommend